Ultrasonic Plastic Cleaning Machine: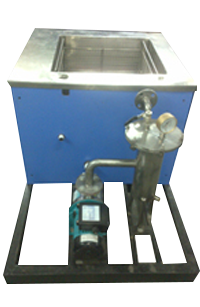 Ultrasonic Cleaning Machines (Single Chamber)
-

Ultrasonic Cleaner 250 Watt Size: 400mm x300mm x150mm: 18 lit

-

Ultrasonic Cleaner 500 Watt Size: 500mm x400mm x200mm: 40 lit

-

Ultrasonic Cleaner 750 Watt Size: 675mm x475mm x200mm: 63lit

-

Ultrasonic Cleaner 1000Watt Size: 600mm x400mm x300mm: 75 litre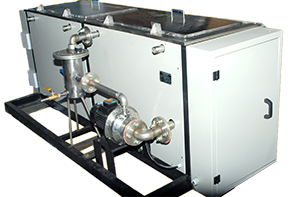 Ultrasonic Cleaning Machines (Multi Chamber)
-

Ultrasonic Cleaning Machine 4 Chamber 2000watt

-

Ultrasonic Cleaner + Filter 1000 watt

-

Ultrasonic Cleaner + Dryer + Filter 500watt/1000watt/1500watt
Specifications for Ultrasonic Cleaning Machine
Generator





IGBT Based advanced technology, solid state.





Timer





Digital timer programmable between 0 to 99 min.
In step of 1Minute.
To set the ultrasonic ON time.





Heater & Temperature Controller





Heater will be provided with digital temperature controller to control the solvant temperature at 50 degree centigrade.
A Separate ON/OFF switch will be provided for heater.





Construction of equipment





Tank will be made up of SS 304, 16 gage material.
All bends of tank would be rounded @ radius of R10.
A lid will be provided for the tank, which would be made of SS304, 16 gage materials.
Drain: 1/2 "ss ball valve will be provided for solvent drain.
Equipment body will be made of SS material.





Basket / tray





A basket would be made of SS 304; 2 mm wire size & 1/2 inch Hole size.
Basket will be provided with handles at both the sides for easy handling.





Additional features





Powerful & reliable cleaning
Built in microprocessor
Built in digital thermometer & timer to set optimum conditions.
Built in drain valve unit.
Silicon rubber heater for durability & stability.
Built in alarm function for noticing operation STOP.