Hot Plate Welding Machine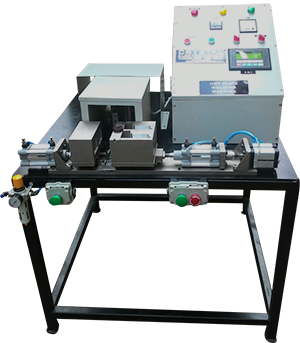 Key Features:
-

PLC HMI Controlled Machine

-

Safety Screen provided for operator Safety

-

PID Temperature controller to maintain the correct temperature of the heating elements

-

Pneumatically operated machine with Festo make Cylinder

-

Replaceable Teflon sheets will be provided on top & bottom of the heater block to avoid sticking of the component to the heater

-

Teflon Coating Hot Plates.

-

Sturdy MS frame with powder coating.

-

The cycle starts by pressing the 2 hand push buttons.

-

Logic controls will be through PLC ( Fuji Electric Make).

-

MCB will be provided for input supply.

-

Acrylic sheet framework will provide for machine.

-

Temperature Interlock and All possible Interlock will be provided to Machine.
Specifications for Hot Plate Welding Machine
Electrical Input Voltage: 230VAC ± 2V Single Phase
Pneumatic: Air Supply: 4 to 6 CFM @ 3bar pressure
Timer and relay logic control operation
Leak proof joining All machined parts in general will be Blackened/Nickel plated
Fabricated parts will be powder coated as per your color scheme
Relays will be provided for all output from PLC.
All actuators & indicating lamp will be of TECHNIC / IDEC make